<!-- March 7, 2003 -->
Went wall climbing with Sarah.
It was amazing fun! Very sore arms. Won a $20-bet from Al who thought I couldn't make it to the top of the 5.8 difficulty; didn't collect on it. It was enough just to do it. Another thing I can cross off my to-do list.
Now I'm working on yet another Friday night. Sigh. I'm so cool it hurts.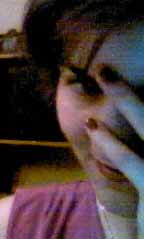 Cursing:
my competitive nature

Listening to:
New Pornographers The Fake Headlines